Our illustrated storybooks are a selection of little gems from great storytellers. Raúl Borrás San León and Juvitina Galán inaugurate it. The family grows.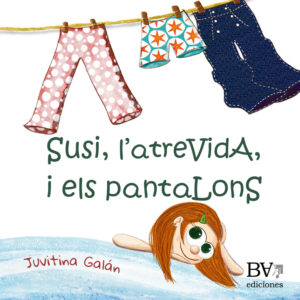 Susi, l'atrevida, i els pantalons. By Juvitina Galán.
Although it sounds incredible, for decades, the women of many towns in our country did not wear pants; because the social norm censored it.
This story is based on real events. Susi is a fun and sensitive person, observant and creative, sensible and daring.
Encara que semble increïble, durant dècades, les dones de molts pobles del nostre país no vestien pantalons; perquè la norma social ho censurava.
Aquesta història està basada en fets reals. Susi és una persona divertida i sensible, observadora i creativa, sensata i atrevida.
About the author
Woman, graphic artist and Early Childhood Teacher in a cooperative school for more than 30 years; that's why she has restless hands. She is currently a Pedagogical Advisor for Ninos nursery schools and a member of the collective of plastic artists ARTEENRED. She has been part of the Pedagogical Renewal Movement ―Comarques centrals― and has been the winner of the First Prize for Didactic Materials from the Ministry of Education.

Dona, artista gràfica i Mestra d'infantil en una escola cooperativa, durant més de 30 anys; per això té les mans inquietes. Actualment es Assessora Pedagògica de les escoles infantils Ninos i membre del col·lectiu d'artistes plàstic ARTEENRED. Ha format part del Moviment de Renovació Pedagògica ―Comarques centrals― i guanyadora del Primer Premi de Materials Didàctics de la Conselleria d'Educació.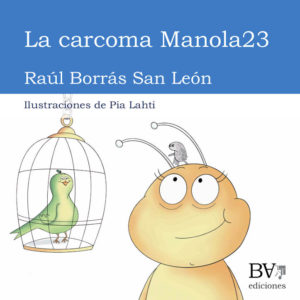 La carcoma Manola23. By Raúl Borrás San León.
La carcoma Manola23 is thirsty for the world and the rocking chair is too small for her. Freedom is a hilarious adventure in this tale told with infinite tenderness and humor. Discover the journey of a woodworm with her mite friend to help a bird to find its way. Raúl Borrás San León, author of the historical novel Esclavos del honor, by Ediciones B, surprises us with this children's story. Pia Lahti illustrates it with a cheerful Nordic style.
About the author
Raúl Borrás San León (Valencia, 1974). Married and father of three children, he lives in Bétera and works as an administrative worker in a small company. He is a member of the literary group El Cuaderno Rojo.

In 2017 he published his first novel, Esclavos del honor with Ediciones B. It narrates the epic of the siege of Baler and how a handful of Spanish soldiers resisted the enemy for a year in the middle of the Spanish-American war.

He was a student in the creative literature course of Santiago Posteguillo and Antonio Penadés. In a class full of magic and passion, surrounded by strangers who soon became friends, he learned the basic ins and outs of the art of writing. He has published a dozen stories in different anthologies. While documenting for Esclavos del honor, in addition to participating in new literary creation workshops, he smeared hundreds of pages, creating stories, diaries and other delusions.

La Carcoma Manola23 is one of those stories that BocaAbajoEdiciones now publishes.
We are lucky to have artists that bring our tales to life.
About…
Pia Lahti
With a degree in English Philology from the University of Valencia, Pia Lahti is a Swedish illustrator who always had a passion for art. After a decade working as a teacher in Spain and Sweden, she decided to change the classrooms for paintbrushes. She studied illustration at Berghs School of Communication in Stockholm (Sweden). In her first illustrated book, La Carcoma Manola23, she shows a cheerful and original drawing. With soft tones and kind lines, her creations will amuse both children and adults.
To learn more about her work, you can follow her on Instagram: @pialahti_illustrator