Yuru y Ara: A story at the Mamore River
by Eva Lucía Bayarri and Juvitina Galán

The messages from the river are not reaching the dorado fish of the mouth of the Amazon. Yuru and Ara are two Bolivian macaws who live in the Mamore River, and they are going to help Brachy and Iara fulfill their vital mission. A story of the river that will teach you the mysteries we are all learning now about connectivity and the importance of free-flowing rivers. Life depends on things that are not obvious to the naked eye. Learn about the life cycle of dorados and the wonderful secret of the river.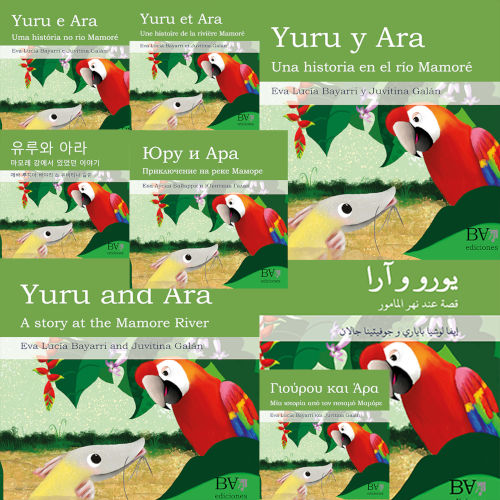 Boca Abajo in everyone's mouth
Interview on Radio Ciencia
We have been interviewed in Ciudadana 660 Terramar about the Tales of Science and their songs. You can hear the interview here:
WorldFishMigrationDay2020
The story of Yuru and Ara, BocaAbajoEdiciones and the WorldFishMigrationDay2020
Yuru and Ara is my little contribution to the main purpose of World Fish Migration Day 2020 The day I found Pao Fernández Garrido, a fishway and dam removal engineer working for World Fish Migration Foundation (WFMF), I knew this project was important. She coordinates World Fish Migration Day (WFMD), and she developed Dam Removal Europe (DRE) along with Herman Wanningen (founder of WFMF). She was the main responsible (at the beginning) for all the river barrier inventories collection for the project: Adaptive Management of Barriers in European Rivers (AMBER). She is passionate about her work. That kind of passion is so contagious.
I knew I had to be involved with this project. I am Eva Lucía Bayarri. I run Boca Abajo Ediciones, a little publishing company, and I write science tales and songs to help science get to everyone.
I offered to write a book for kids for the WFMD2020.
I studied the main problems of several rivers around the world. Fish and species are going to extinction all over the planet. I found a study about freshwater mollusks at the Plata River, read about the sturgeon at the Danube River, and read about the situation at the Magdalena River or the Pilcomayo River. But when I got to the problem at the Mamore River and the lack of dorado fish, I knew it was my story.
A good friend of mine, Elizabeth Velasquez Guerra, is from Bolivia and loves rivers. She told me about the trees, the fish, the insects, and the color of the water there. That way, my story held a soul that would not have had any other way.
Two macaws and their love story would come my way and helped me tell the story of Yuru (name meant to honor the ancient Bolivian people Yurucarés) and Ara (scientific name of the macaw) and the dorado fish.
Dr. Claudio Beigún and Dr. Paul Van Dame became the scientific editors of this story, making it accurate. Juvitina Galán brought them to life with her outstanding illustrations.
And it could have been it. But Pao thought that it was a pity that the children of the world could only get this digital book in Spanish and English. So she asked scientists, coworkers, collaborators, and volunteers from all over the world to translate this story.
Here they are, the twelve versions and those responsible for the magic:
We have collaborated with the World Fish Migration Foundation (WFMF) (https://worldfishmigrationfoundation.com/) with this story about the Bolivian Amazon. Yuru and Ara. A story at the Mamore River.
Boca Abajo Ediciones wants to thank all those who have participated altruistically in this project. Thank you, Claudio Beigún and Paul Van Damme, for accepting my project and reviewing all the scientific details of this story. Without you it would not have been possible. Thank you, Juvitina Galán for your generosity and for your talent. You have brought my words to life with superhuman freshness. Thanks to all the translators and reviewers, starting with Dr. Carolina Doria and her very young son Joao for their dedication and affection. Thank you, Sandra Chevret and Dr. Fabrice Duponchelle, for the care and attention to detail. Thank you, Olga Cheblukova WWF Russia, for your very needed coordination work, and Yulia Fomenko of WWF Russia Amur Branch, for that version that greatly improves the original. How beautiful you write, Yulia! Thank you, Dr. Hagar Dighiesh, for your patience in the face of all my ignorance and for how beautiful my story turned upside down. Thank you, Rebecca Kim for all that wisdom. To Angela Park, my friend, one of those forever, I have to thank a writer like Sun Jeong Kim for giving us the luxury of her know-how. A real luxury. Thank you. To Ruben van Treek, thank you for your perfectionism and charisma, immense. Francesca Saccà, thank you for your patience, for your efficiency and for the love you put into the project. Giovanna Tanzi, my friend, you are generous and dedicated. You have passed my Spanish version. . Foivos Alexandros Mouchlianitis, thank you for your dedication against all circumstances. Thank you, Maria Cheimonopoulou, for investigating every detail of the story and making it so yours. It has vastly improved and gained scientific coherence. Grateful to Ioana Persoiu for her weekend working on it and for her intention to read this book to her kids. We are ready for China and Japan. Their versions are on their way.
When such a project arises, in which everyone's participation is altruistic, there is no room for demands or disappointments, there is only hope and gratitude. Mine won't fit in this letter but, Pao Fernández Garrido, you planted the seed for me to write this story and you have made it great with enthusiasm and gratitude. There is no better food. Bas Deelman, Roxanne Diaz, thank you for the behind-the-scene work. We at Boca Abajo Ediciones hope to continue collaborating with the World Fish Migration Foundation for many years and that their message arrives clear and powerful. They have the key for the hope of a change. Let's go for it!